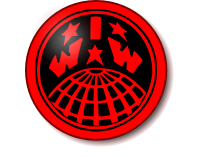 There is a weekly IWW General Strike Coordinating Committee meeting. This committee, open to all, meets each Tuesday at 6:00 p.m., , P&L Press Infoshop 2727 W. 27th Ave., Unit C, Denver.

Website:
denvergeneralstrike.org
As the recession has deepened, wealth and power have been funneled into the hands of the few. We can no longer afford the rich and powerful or tolerate this system that creates them at our expense. Police, militaries, immigration enforcement, and corporate banks have attacked our communities and movements. We can no longer survive without control over our lives and our society. We will not be silenced. The time has come to show those in power that our demands for equality and justice must be met.
In solidarity with cities worldwide, the people of Denver will enter into a preliminary General Strike for May 1, 2012—International Workers' Day. We unite in action with people around the globe fighting for a better tomorrow.
Now is the time for community, neighborhood, school, and work groups to organize autonomous and direct actions. As long as we are attacked and deprived of our basic rights, we will not allow for business as usual. We will support independent efforts of people to claim control over their workplaces, schools, and communities as the beginning stage in reclaiming their lives.
The people of Denver hold true power. Without our labor, resources, knowledge and support, the powers that be cannot exist. The people of the Queen City will rise. Meet us as we occupy, march, and take action against this system that has stolen from us for far too long.
May 1 can be the beginning of a new chapter of struggle for justice and equality. As we occupy our streets, workplaces, neighborhoods, and other common spaces, we start to build a new world within the shell of this old world of injustice and inequality. Let May 1 be the beginning of a new chapter that has yet to be written. . .
—A Spanish translation of this statement can be found here.